Welcome!
The 360° Blackall Trail takes you on a walking tour through Blackall, stopping at some of the town's important landmarks and showing you the whole world around it. It's easy! You might not have done anything like this before, but you'll have fun!
At each stop on the trail, you'll have to look around to find a QR code on a sticker like this:

On your smartphone, launch the Camera app (or a dedicated QR code reader app) and point it at the QR code. Once the code is recognised, tap the link if your phone asks you to, and the next stop on the trail will load.
You'll read more about where you are, and then you can tap to view a 360° image which will show you what's around you, and where to go next. To find out more about where you are, you can tap the "i" bubbles in each 360° image. And to find out where to go, look for this red magpie footprints icon.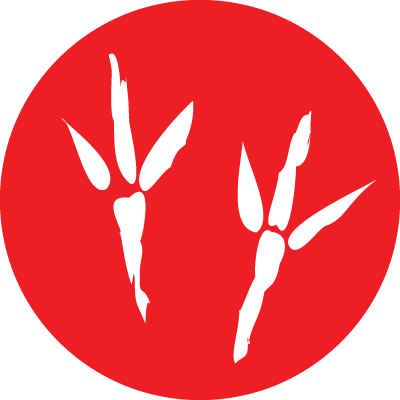 Once you know where the next stop is, just walk there — explore on the way if you want to — and look for the next QR code sticker, which might be well hidden! Then scan the code and do it all again.
The trail starts at the Bushman's Hotel on the main street through town, just west of the IGA supermarket. All modern smartphones (iPhones on iOS 11+ and most Android) will work for this trail, and it'll take less than an hour.
Once you've arrived…